There's an election in Rochester on November 3.
THE QUESTION
There's just one thing on the ballot: should the Rochester School District (#535) be allowed to raise the extraordinary levy from $309.79 to $836.82? (Their stated number is $578 but a look at their details begs the use of our number.) This will raise an additional $9 million per year for a budget that runs around $200 million. The current levy expires next year; the new one would be for 10 years and automatically increase with inflation.

The District says this is needed because funding has not kept pace with inflation and that cuts have been avoided in recent years by using General Fund reserves which are now exhausted. The District says a yes vote will avoid budget cuts through the 2019-20 school year and that a no vote may result in program and staff cuts, and increased class sizes.
Here are some details about the District's request, spending, and options. How and whether you vote is up to you.
A QUICK LOOK
The request seems to represent a 28% increase in overall District local taxation.
By the District's own reckoning, they are asking to replace a $310 extraordinary levy per student with one of $837. That's a 170% increase in that piece of District funding.
There are a lot of numbers flying around and converting from dollars-per-student to our property taxes is not easy nor exact for any individual taxpayer. But their tax calculator shows an increase of $183 per year for a house valued at $200,000. Match that with their calculation (on page 10) that a $200,000 house is paying $660 for District funding this year, and we come to a 28% increase.
The Scoop understands that Minnesota just increased its education funding and that the School Board just increased its automatic portion of local funding. Who is already providing those dollars?
The $837 request, by the District's own admission, is based on matching the average extraordinary levy across the state of Minnesota. They also did some polling to see what the population could stand. Are other districts building new schools; paying off extraordinary debt; living in nicer neighborhoods? What is the correlation between the average of state levies (along with what the population may accept) and Rochester's financial situation plus education priorities?
The request comes at a time when our cities and county will be increasing taxes. Health care costs are up for most of us, too. Is it reasonable to be asking for a 28% increase on the basis of an average that has no obvious bearing on Rochester's means or needs?
It's not clear that the District has considered all its operations and all its options for assuring good education value for our children and us taxpayers. Is it just easier for them to ask for more money?
However you see it, consider exercising your civic duty on November 3. (See the Conclusion for early voting details.)
A LONG LOOK
The Scoop is as interested in quality education as anyone or any group. We're also interested in quality management. Does this referendum pass the second interest?
The needs indicated by the District's request – course offerings, staff, and class size – are fundamentals of the District's purpose. Should those be funded by extraordinary levy or from base revenue streams? Should extraordinary levies be for the likes of new schools? Considering Rochester's expectation for growth, we can expect a need for new schools which will require more extraordinary levy requests. And note the District's promise of budget safety through the 2019-20 school year. That's less than half the 10-year period of the request. Should the time periods match?
Most of the District's funding comes from state and federal sources. Minnesota funding was just increased by more than the District expected, thereby reducing their calculated shortfall. Also, the Board has seen fit to increase the amount of local funding for which they don't have to ask permission. The Scoop couldn't find where the District's and Strong Schools Rochester's materials mention these things.
The District likes to say they've cut back spending most every year in the last 10. They've spent more, at least since 2010.
Chart A is all spending since the academic year ending 2010 (the earliest for which the District has budget documents on their web site). The numbers are not adjusted for inflation. It looks like the biggest reason for a dip in 2011-12 is debt service and construction.
The referendum dollars will go into the General Fund from which most "real" education spending is funded. Lunches, for example, come from a different fund.
Chart B looks at General Fund spending per student in these years. The green line is actual spending (though 2016's is budget, not actual), the blue line is adjusted for inflation by using constant 2015 dollars. The red line is the trend from 2010 to 2016.
Chart C zooms in on the top of Chart B. The General Fund expenses per student – adjusted for inflation – are going which way? After inflation, per-student spending has increased 11%. The median income in Olmsted county between 2010 and 2013 (the latest for which The Scoop could find numbers) decreased by 3%.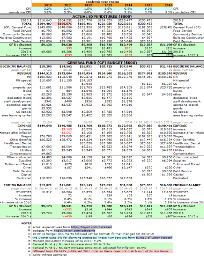 The District's sample cuts, should the referendum fail, are the typical "Oh no!" items. A look at their budget documents since 2010 shows some changes that could be considered but are not mentioned. We'll get to those, below.
If you'd like one layer of detail, see our compilation of their spending since 2010 (with references to the source documents).
The District formed a sizable Cabinet, gave them big raises this year, and hired an Assistant Superintendent. On top of all that, they still budgeted $3 million for consulting fees. None of that is chump change.
The District staff may have the best health care benefits in town, even considering a well known local clinic. They get free dental coverage and their health care expenses are covered at 90%. Mayo Clinic and IBM staff members pay for dental coverage and their health care expenses are covered about 80% (complicated by exact situation and chosen plan). A question about health care benefits on their web site only indicates what the District pays and that the "employee pays the remainder." The Scoop tried to determine the premiums paid but did not receive responses to its inquiries. The District covers its employees at a "Cadillac" level. Does it supply them at "Yugo" prices? If so, we taxpayers are being asked to pay for their extraordinary benefits (on top of covering our own health care cost increases).
The District says it cannot dip any further into the General Fund's reserve because it's at the minimum required 6% buffer. That buffer is in place by policy that can be changed. Isn't the purpose of a reserve to help cover expenses, not to sit in place forever? This may be a time to dip into it further.
The District's $1.3 million Social Services employs 15 FTEs. County services are designed for social work. Is the service overlap necessary?
The District's $1.3 million Health Services provides, "care and treatment plans". Why isn't that left to medical professionals outside the realm of school, especially in these days of Affordable Care where everyone is supposed to have their own health insurance?
Why was the iPad program begun in a time of supposed austerity?
The District brags that 76% of its teachers have advanced degrees. Did you know teachers get higher wages just for having an advanced degree? Where else can a worker get an automatic pay raise just for completing school work? Should salaries (and education costs) rise automatically or should we be more interested in how well teachers teach?
The District says CTECH may be a program that suffers should the referendum fail. CTECH introduces students to the trades. Did you know that local unions offered space and their professional expertise, for free, to the district's students? The Scoop understands the District turned down the offer because the professionals were not licensed teachers! Now the District spends money for things they could have got from direct volunteer community involvement and holds it hostage should we not go along with their desire for more funding. Is this sensible?
Finally, for 2015-16, the District has budgeted $37 million for each of:
– about 8,000 grade K-5 students
– about 8,000 grade 6-12 students
– about 2,000 special education students
The Special Ed program has a staff of 600 FTEs and also appears to get some of the non-Special Ed funds. Advanced Placement (AP) courses are on the District's hostage list. Special Education programs are not. The AP budget appears to be $0.8 million, about 1/50 of the Special Ed student budget. Yet, AP is the one held hostage. Is it reasonable to be spending 4x more on our Special Ed students than on the rest? Is it reasonable to hold AP students hostage when they're already getting so much less?
Surely, there are even more opportunities, options, and questions. We'll leave it at these, for now.
CONCLUSION
Still here? Thanks for your attention.
Without knowing the details, The Scoop is aware that in the public education universe, some things are mandated, some things are specifically funded, all things must be balanced. Still, has the District done its due diligence in balancing its priorities?
Has the District properly considered their request?
Does it appear the District has considered and acted on all the options for bringing revenues in line with expenditures?
Is the District spending its funds on the right things?
Whether the referendum passes or fails, The Scoop believes the District will be fine for another year.
However you see it, consider exercising your civic duty on November 3 at your usual polling place (unless you receive a postcard saying otherwise) or, if that's inconvenient, consider early voting at the:
District's Business Services Office
Edison building
615 7th Street SW
Monday-Friday 7:30 am-5:00 pm
Saturday, October 31 10:00am-3:00pm
They request entry on the west (7th Avenue) side of the building, door #2.
POSTSCRIPT
Some people who saw or heard about this article got together and decided to do some advertising of it. The Scoop appreciates their extraordinary interest. We understand their expenses were less than the $750 that would require reporting. Still, the media company required a disclaimer. This postscript was added to close the loop for the curious. The supporters called themselves the Federation Interested in Rochester Education (FIRE) and are not related to The Scoop.





email hidden; JavaScript is required






email hidden; JavaScript is required